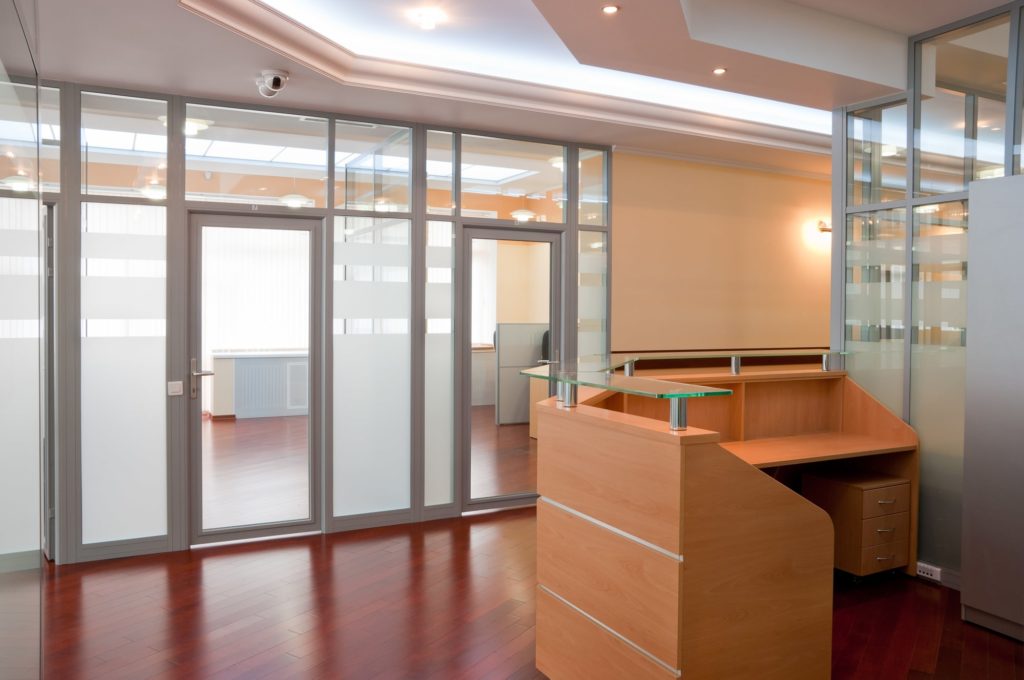 Today, many office spaces adopt open plans that allow the occupants to maximize space but, also portray a touch of modern style. One of the benefits of open office plans is that they offer you diverse design options for every inch of the space. While many materials can be used to create the desired partitions and barriers, glass is the most ideal alternative for office doors and partitions.
Many architects and interior designers recommend glass office doors and fixed panels for modern office complexes. Unlike wood or other conventional materials, glass has a striking sense of elegance and style that will effortlessly transform your business space. However, there are several benefits of glass office door and fixed panels.
Benefits of Glass Office Door / Fixed Panel
Glass has many unique properties that make it a great option for durable and stylish office doors and partitions. The following are some of the key reasons why you should consider installing glass doors and fixed panels in your office.
Elevates the looks and feel of spaces
Glass is associated with elegance and class, which are among their most outstanding properties. Installing glass doors and panels will create a contemporary accent, thereby elevating the appeal of your office space. Glass office doors and panels provide a strong design statement that will inspire a modern accent through the office.
The elegance of glass will portray an exquisite corporate appeal that could positively impact on your clients. The doors and panels are constructed with durable and eco-friendly materials to give your spaces a lasting touch of beauty and elegance. The glass does not experience staining, which will also help with ensuring low maintenance.
Conserves space
Using glass office doors and fixed panels can also help to prevent the wastage of space. Glass has thin profile that ensures optimal usage of space in partitions, entry and exit points. Besides, the doors and panels can be customized to the design requirements of your building. The doors and panels can be adapted to your office space.
You can opt for single panel doors, telescopic panels, large sized double doors, and frameless partitions among others. That ensures less wastage of space during office remodeling.
Enhanced comfort and transparency
Using glass for your office partitions and doors is also an incredible way to improve comfort and transparency therein. Office glass doors and partitions inspire a sense of warmth and safety that will make your staff and clients to feel more comfortable. The transparency of glass could also promote a sense of trust and teamwork among the staff.
However, you can also opt for office glass doors and partitions with special features for privacy.
Applications of Glass Office Doors/ Fixed Panels
Glass office doors and panels are customizable and, can be designed and installed to your specifications. As such, they can serve several applications in office complexes. They are ideal for installation in office lobbies, entry and exit points, partitioning different departments and other indoor sections of the building.
Get the Best Glass Office Door/ Fixed Panel Installation Singapore
The immense benefits of glass office doors and fixed panels give them an upper hand in most projects today.  However, the best quality office glass doors and professional installation are the main secrets to experiencing the benefits of these products. At Glass Expert Singapore, we are the trusted partner for office glass doors/ fixed panels that you should engage to handle your project.
Our company has close links with leading manufacturers and suppliers of quality glass and mirror products in Singapore. As such, our staff will first assist you in choosing the right glass doors and panels for your office. Depending on the dimensions of your office space and the desired design statement, the doors and panels can be custom designed to complement those needs.
We understand that office spaces vary in terms of designs. Even offices have varied reasons for installing glass doors and panels. That is why we always emphasize personalized office door and fixed panel installation. Our goal is to enable you harness all the practical and decorative benefits of having glass doors and partitions in an office environment.
Get in touch with us today for reliable and affordable office glass door and fixed panel installation.