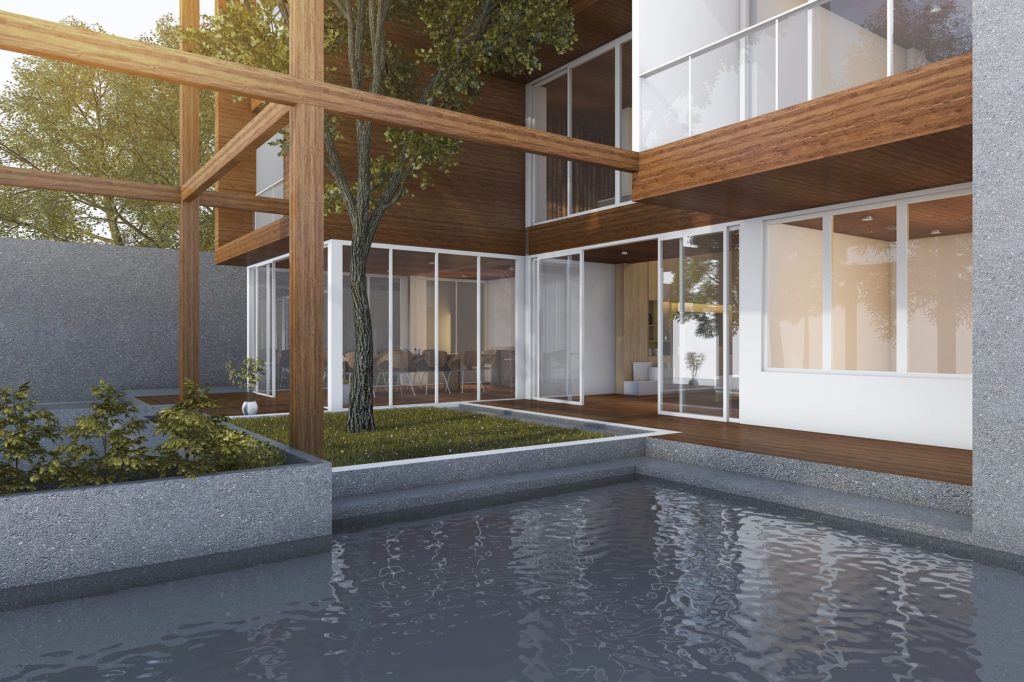 Today, the usage of glass dominates quite a wide range of residential projects. Apart from the interiors, glass also serves several roles in creating luxurious and durable external structural features. In fact, there are many kinds of residential glass and mirror products that you can now easily install to enhance the aesthetic appeal and overall integrity of your home.
At Glass Expert Singapore, we are the professionals in residential glass and mirror installation that you can trust with your project. We offer custom installation of a wide range of glass products in residential establishments including HDB and private homes in Singapore. We guarantee prompt and quality workmanship tailored to your needs and budget.
Our residential glass and mirror installation services
If you are looking to break up larger rooms and fill empty spaces with a unique touch of luxury then, color backed glass or glass backsplash is the best option. The glass is painted on one side with varying hues that can easily blend with diverse ambiences. To create the best modern backsplash in your kitchen, bathrooms or other spaces in the home with these items, simply let us provide custom color backed glass installation.
Glass fences have for a long time been a reserve of upscale palatial homes in the suburbs only. But, the modern innovations in glass and mirror technologies have now made it easier for even ordinary home owners to afford glass fences. Apart from the sophisticated looks of glass fences, they are also durable barrios that will ensure greater visibility across the home. Our company can help you with the best glass fences installation.
Glass is considered by many to be one of the most ideal flooring materials for homes of the future. It can easily transform your home into a haven of luxury with very little effort. If your home has more than one floor, installing glass flooring will also ensure incredible views of the top floors from below, creating a unique spectacle therein. We also offer personalized glass flooring installation for residential establishments.
Whether you own or rent the home that you are living in, there is usually the constant need for erecting partitions to maximize spaces and change the interiors. Today, glass is the most preferable material for such projects because of its outstanding aesthetics, ease of installation and low maintenance. We offer custom glass partition installation for both interior and external parts of the home.
Glass railings offer numerous benefits in residential spaces. Regardless of where they are installed, glass railings have sturdy and leek designs that will effortlessly transform the appeal of your living spaces. Besides, they also promote safety across the home by preventing fall accidents. Our company also specializes in custom glass railing installation for both indoor and outdoor living spaces.
Many homeowners add wall mirrors only in their bathrooms, bedrooms and dressing rooms. However, wall mirrors can also create striking centerpieces and, make your spaces to look bigger. Custom wall mirrors create reflections that could also help with brightening up parts of the home during the day. If you want to experience the touch of wall mirrors in your home, simply talk to us for custom wall mirror installation.
The shower in your home is a place that requires privacy but, also an inviting atmosphere that reflects your lifestyle. And, glass is one of the best materials that can create beautiful shower enclosures with a strong sense of privacy. Glass is also very easy to clean and maintain, which also helps with improving hygiene therein. We can transform your shower areas with personalized glass shower screen and shower enclosure installation.
A skylight or glass roof can also create an outstanding spectacle in your home. With glass roofing, you will be able to maximize the usage of natural light across the home throughout the day. That could significantly reduce your lighting costs. They also create a striking centerpiece with incredible views of the skies from inside your home. Skylights also offers better thermal insulation to keep your living spaces warm. Our company can provide the best residential glass roof or skylight installation for your home.
Sliding and swing doors are the best replacements for conventional doors. They not only provide a chic modern appeal to the interiors but, also help with conserving space. Besides, swing and sliding doors are also very easy to operate, offering greater convenience in accessing different sections of the home. Sliding doors are ideal for homes with people with disabilities or elderly persons. Talk to us for the best glass sliding/ swing door installation.
Glass windows are essential structural features for every home. The primary reason for installing glass windows is to maximize natural light across the various parts of the home. But, glass windows can also give your home an improved look and feel. We can provide custom glass window installation to enable you experience the entire practical and aesthetic benefits of glass in your living spaces.
Get the Best Residential Glass and Mirror Installation Singapore
Glass is undoubtedly one of the most sought after materials for creating luxurious, stylish and safe living spaces. The exquisite looks, durability and adaptability of glass makes it ideal for several installations as discussed above. However, you need the help of a glass expert to install the items in your home.
Glass Expert Singapore is your go-to glass professional for custom residential glass and mirror installation Singapore. We specialize in the installation of all the above glass and mirror products in all kinds of residential establishments including private homes and apartments across Singapore.
In our job, we always strive to deliver personalized residential glass and mirror installation solutions tailored to your unique needs and the structural requirements of the home. Besides, we offer prompt services at the convenience of every client. Get in touch with us today for custom residential glass and mirror installation Singapore.