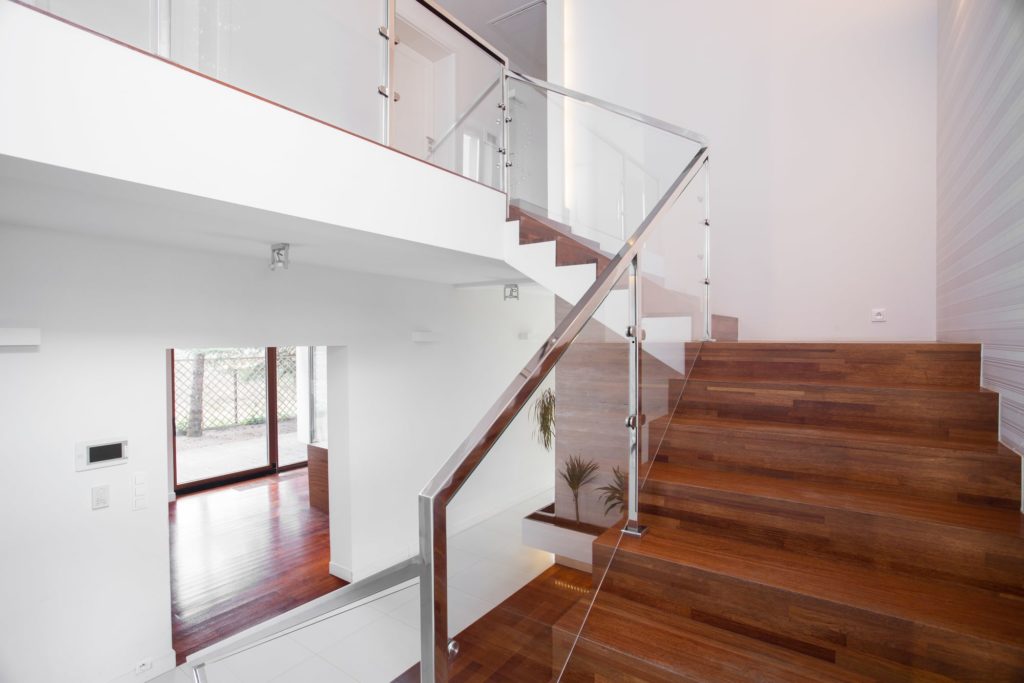 Railing systems are a common sight on most residential establishments. Glass railing systems are made of glass, which is not only durable but, also depicts a unique sense of class and elegance. Today, glass railing systems are an essential component of modern homes recommended by both architects and interior designers.
Benefits of Residential Glass Railing
To understand why glass railing takes the lead in many home remodeling projects today, you need to look at its unique benefits. The following are some of the merits of glass railing systems in homes.
Opens up spaces and improve visibility
Lighting and visibility are among the main factors to consider when designing living spaces. And, glass railing systems can provide flexible and low cost solutions to all those challenges. Due to the ability of glass to create illusions of space, installing glass railing systems will significantly open up your spaces.
Glass railing systems are accorded sleek designs that attract natural light into the home. That will illuminate your spaces and promote visibility. Glass is also transparent, enabling you to get better views of your home from different points. Adding glass railing systems will incredibly boost the overall feel and looks of the home.
Enhances structural stability and safety
Another reason to install glass railing systems in your home is because they can help to improve the integrity of the building and safety around the home. Glass railing systems are durably constructed with tempered glass that can effectively withstand a wide range of environmental elements and human activities. That will contribute to the overall strength and longevity of your home.
Glass railing systems can also significantly boost the safety in your home. Installing them along the staircases and decks can prevent fall and slip accidents. Besides, their sturdy construction also enables them to act as barriers to falling objects from the top floors. Whether they are installed indoors or outdoors, glass railing will remain functional and beautiful for many years to come. Outdoors, glass railing systems can help with preventing structural damage as well as injuries from elements like strong winds, snowfall and rain.
Customizable
Unlike traditional railing systems that are limited to specific environments and applications, glass railing is quite flexible. Glass railing systems can be easily customized for unique living spaces. You can use them to create open plan rooms or infuse a sense of privacy with style. You can also get glass railing in different sizes and shapes that complement every space in your home. That will enable you to easily create the best living spaces that truly reflect your needs and lifestyle.
Applications of Glass Railing in Homes
Due to the versatility and striking aesthetics of glass railing systems, they can serve a wide range of applications in residential spaces. Glass railing is traditionally meant for staircases, decks and patios. But, architects also recommend installing glass railing systems around pools and gardens. Our company can install glass railing systems indoors and outdoors based on your needs and structural implications.
Get the Best Residential Glass Railing Installation Singapore
Even with the best quality glass railing systems, proper installation is always critical to experiencing its benefits in your living spaces. That is why you need the help of a glass professional to handle the installation of the glass railing systems across your home. Glass Expert Singapore is the go-to professional for personalized residential glass railing installation services in Singapore.
We have the expertise and experience to deliver the custom installation of glass railing systems in all kinds of residential environments. Our company serves private home owners and public housing developments in Singapore with a guarantee of quality and reliable workmanship. We remain committed to the delivery of lasting glass railing solutions for home owners and residential property developers.
One of the reasons why we attract many is because of the convenience that comes with working with us. Our company has close ties with trusted glass and mirror products providers in Singapore. That ensures that you can always get the best quality custom designed glass railing systems for your home without any strain. Besides, we offer reliable glass railing installation services at the convenience of every client.
Talk to us today for the best residential glass railing installation Singapore.