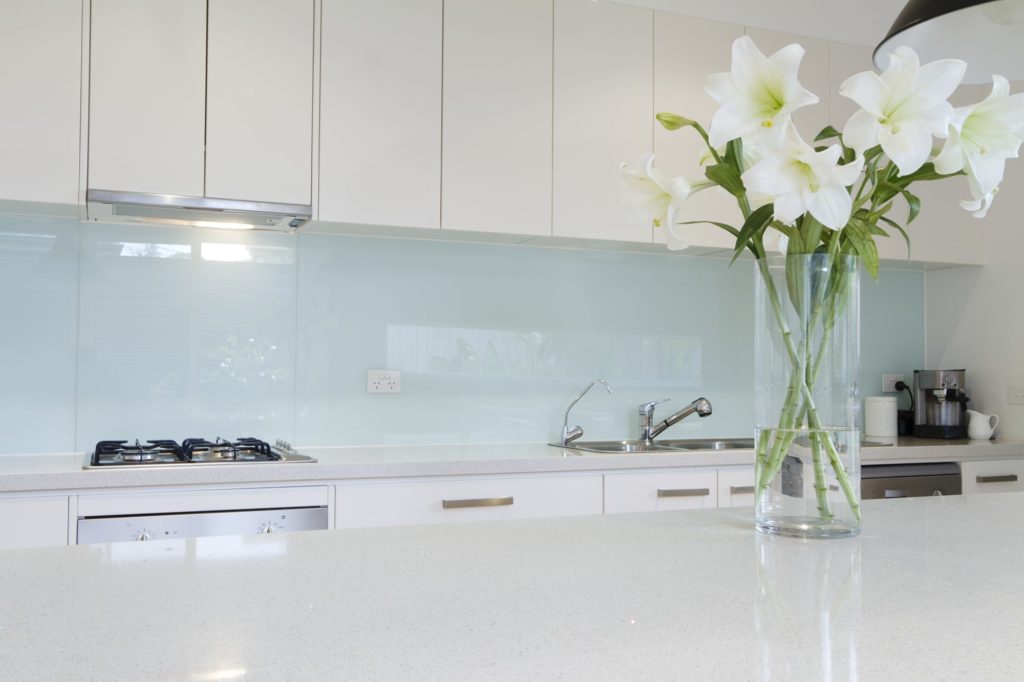 While the use of color backed glass has only been common in commercial buildings, it has recently started gaining popularity in residential buildings too. Color backed glass or glass backsplash is today used in many home remodeling projects. Many home owners opt for glass because of its expansive design capabilities and luxurious touch. But, there is a lot more that glass can offer to transform your living spaces.
Benefits of Color Backed Glass/ Glass Backsplash
Contrary to what some people think, glass serves both aesthetic and practical roles in residential settings. The following are some of the main reasons why interior designers and architects recommend the installation of color backed glass or glass backsplash in homes.
Luxurious design
The design aspect of glass is one of its most striking merits. Glass backsplash has a subtle but, elegant design that easily creates a centerpiece in every space. Even without any additional design elements, color backed glass can brilliantly bring out the ambience of the spaces. Besides, glass backsplash comes in a wider selection of colors so you can easily get the perfect match for every space in your home.
Installing glass backsplash will give your home a stylish contemporary feel that many design items cannot achieve. Color backed glass can create a centre of attraction while also allowing the other decorative elements in the home to shine, thereby creating a harmonious ambience across your entire living space.
On its own, glass backsplash can effortlessly add beauty and, also make the rooms to feel much bigger and comfortable.
Easily customizable
Despite the luxurious appeal of glass, color backed glass is adaptable to several styles designs, shapes and sizes. There are numerous customization options for glass backsplash that you can select based on your specific needs, available space and other structural implications. The glass is available in numerous solid color palates including clear, red, blue, white and others.
You can also select the shapes and sizes based on the dimensions of the sections where they will be installed. The glass can be cut into standard and unique sizes for different kinds of spaces and applications. You can also get glass backsplash in diverse finishes that complement the other design aspects in the home like furniture.
Low maintenance
Unlike other materials like wood, plastic or concrete, glass requires very low maintenance to preserve its appearance and profile over time. The smooth surfaces of glass prevent the accumulation of germs, stains and dirt, which makes cleaning very easy and simple. Regular wiping of the surfaces is just enough to keep your glass backsplash in great condition over time. As such, glass could also help with boosting hygiene in your home.
Applications of Color Backed Glass
The customizability and exceptional design value of glass backsplash makes it suitable for a wide range of applications in residential settings. Most people use color backed glass as backsplash in kitchens to enhance their ambiences. But, glass backsplash also looks great in bathrooms and shower areas, where you should also consider installing them. We can still install color backed glass in other sections of the home that you see fit.
Get the Best Color Backed Glass/ Glass Backsplash Installation Singapore
If you want to experience the luxury and elegance of glass backsplash in your home, you need the best quality glass and custom installation. At Glass Expert Singapore, we are the right partner that can offer you both in one fold. We offer the custom installation of color backed glass in private homes, apartments and other residential establishments in Singapore.
Our company also has direct links with leading suppliers of glass and mirror products in Singapore. That enables us to deliver highly reliable services at the convenience of every client. We can assist you in getting the best quality and custom designed color backed glass that perfectly suits all the spaces that you want to remodel in your home.
In conducting glass backsplash installation, we always emphasize custom procedures that will enable you to fully achieve all the design and practical benefits of color backed glass. Our company also guarantees safe and prompt glass backsplash installation, delivered at your own convenience. Get in touch with us today for the best color backed glass installation.