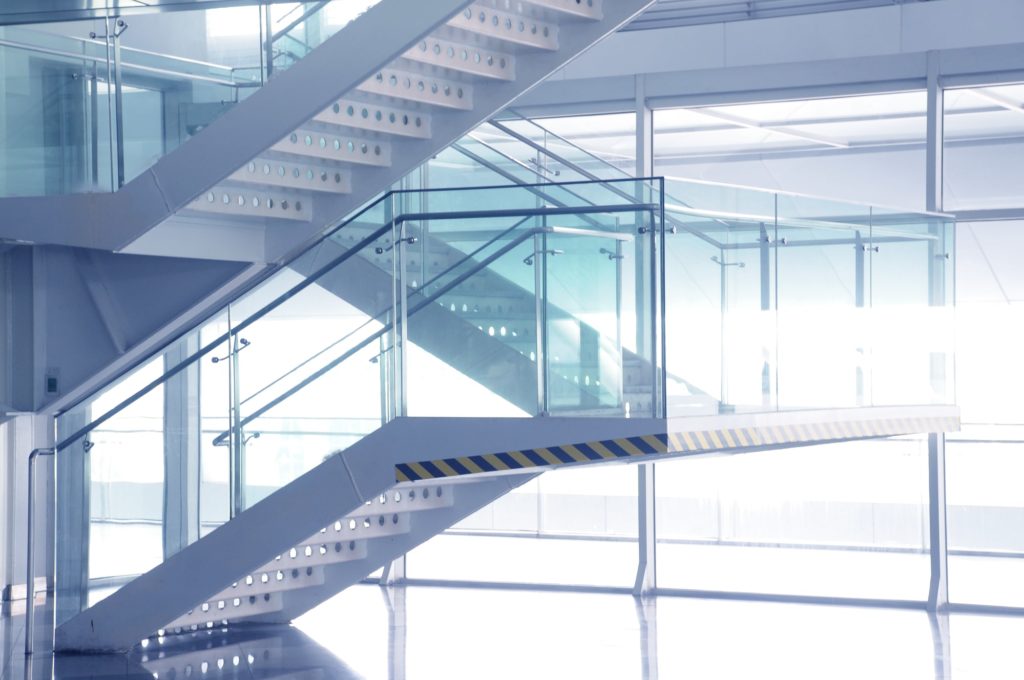 When it comes to railing systems, glass is becoming a popular choice for many building owners today. The modern glass railings come in sleek customizable designs that will easily transform the overall appeal of your business space. But, that is not all you get whenever you install glass railings in your commercial or retail premises.
Benefits of Glass Railing
Glass railing offer immense practical and design benefits than most conventional railing systems. The following are some of the unique benefits of glass railings that give them an upper hand in most commercial and retail establishments.
Opens up spaces and enhances visibility
Unlike wooden or metallic railings that appear bulky, glass railings are light and shinny. As a result, they will reflect light and make your spaces to appear bigger. The light profile of glass railing eliminates the challenges of obstruction, thereby ensuring better views and smooth movements across the building. Whether you install them on the internal or external parts of the building, glass railing will provide the best views of the various sections of the building.
Improves safety
Installing glass railings on strategic elevation points on your building could also greatly improve safety. The railings can also serve as barriers to prevent fall accidents, especially around the staircases and decks. They could also prevent the damage to equipment or goods that may fall from top floors. While glass is fragile, glass railing is constructed with thick and glazed glass, which ensures greater durability.
The tempered glass can also withstand a wide range of environmental elements including wind, snowfall and heat. That enables them to effectively maintain their strength and appearance over time.
Multiple design options
Perhaps, this is the main reason why most people use glass railings. The systems can be designed and built in diverse styles, sizes and shapes for every space. Glass railings can be customized for open plan rooms and private sections of the building. You can also choose the railings based on transparency if you need privacy. Overall, glass railing has a unique aesthetic value that will truly transform the entire appeal of your business space. The multiple design options ensure greater versatility when it comes to the usage of glass railings.
Applications of Glass Railing Systems
Considering the sturdy construction, sleek designs and customizability of glass railing systems, there can serve many purposes. The systems are recommended for both indoor and outdoor spaces. Glass railing is ideal for all commercial and retail buildings with more than one floor including hotels and restaurants, shopping complexes, office suites, bars and clubs. You can install glass railings on decks, balconies, patios or a garden to get scenic views of the property and improve safety. Besides, installing glass railings on your building could also increase the property value in case you opt for resale in the future.
Get the Best Glass Railing Installation Singapore
Despite the growing popularity of glass railing systems in commercial spaces, finding the right ones is not always an easy feat. You need the help of a glass and mirror professional to choose the best quality and design glass railing, and install the systems. At Glass Expert Singapore, that is what we offer you.
We have the expertise and experience to deliver custom glass railing installation services that will truly meet your expectations. Our company sources glass railing systems from trusted manufacturers that guarantee top notch quality products. Regardless of your design needs or budget, we can assist you to easily find the right glass railing systems for your spaces. The railings can be delivered in unique sizes, styles and shapes based on the dimensions of the building and your decorative needs.
Our experts understand that every building and business has different complements. As such, we always emphasize personalized glass railing installation. We install glass railing on staircases, decks, patios, gardens and other specific areas that you may want the systems. Our goal is to make sure that you are able to experience all the practical and aesthetic benefits of glass railings on your building.
Choosing Glass Expert Singapore for glass railing installation is a guarantee that your project will be handled by professionals and completed on time. Simply talk to us for custom glass railing installation Singapore.